Note! Bundles on the same page with an offer, and you need to scroll down a bit. You can create bundles for your own offers that will be visible on the seller's platforms. The bundle can be created by the Product manager of an organization with access to product management. The bundle can include offers from multiple different vendors if the offer is available for bundling by other vendors. In order to create Bundle, go to Offer section and see Bundles tab:

↓

Click on New Bundle, a new screen will be shown where you will create a new bundle.
There are three Offer Statuses: New, Published, and Unpublished;
New – Bundle status is new, not saved yet;
Published – Once a bundle is created, the Product Manager has to Publish it in order to be available in the seller's catalog;
Unpublished – Once an offer is Published, the Product Manager can unpublish the offer if any updates are needed;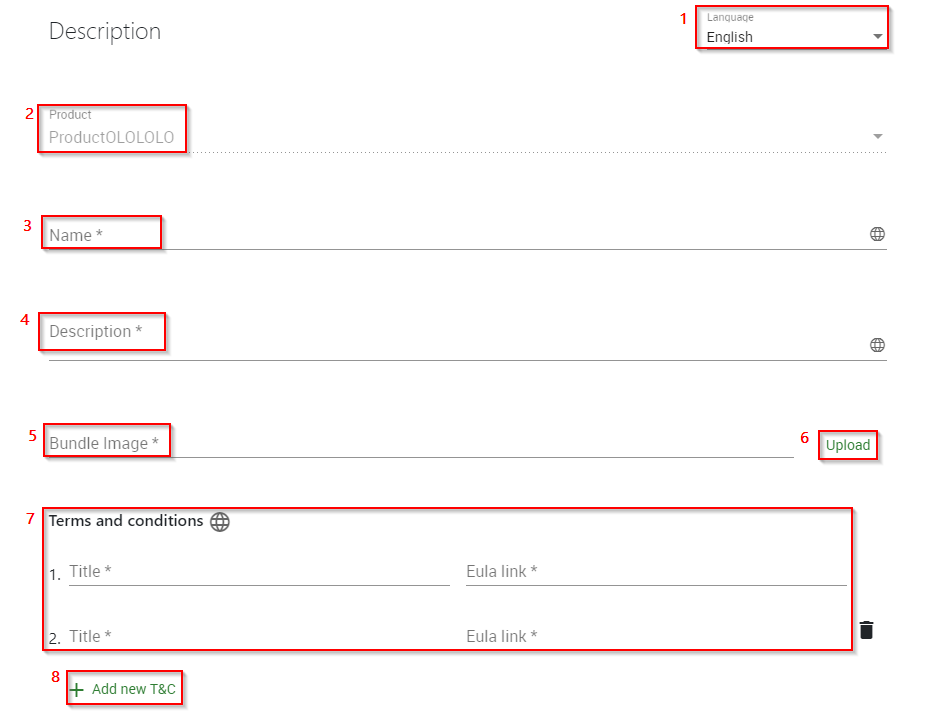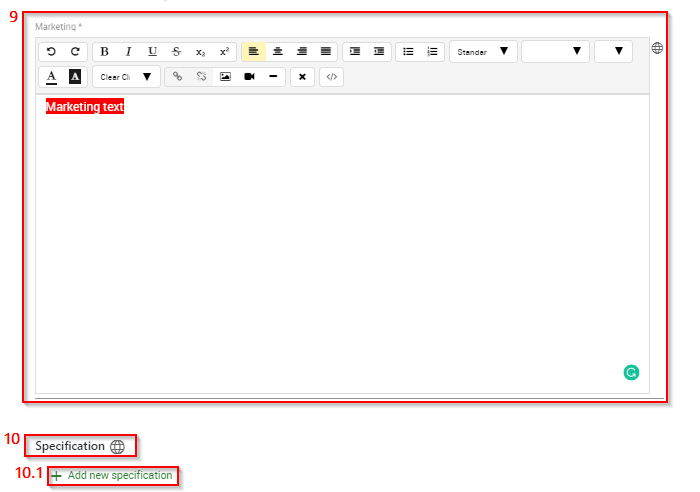 Switch language by selecting arrow, here you can localize Offer by adding offer in different languages, select a different language and fill in the form again;
Product – Product name, this field cannot be edited;
Name – Name of Bundle;
Description – Add a 2-3 sentence description of the bundle. The recommended length is up to 250 characters (with spaces);
Bundle Image – Add /http: link for bundle image;
Upload – Upload the image by clicking on the icon;
EULA link – Add End-user license agreement for a bundle you are creating; You can add and remove several EULA links per offer per locale;
Add a new T&C-Add new EULA link;
Marketing – add text, description, images about Bundle and its functions;
Specifications – Here you can add specifications/parameters about bundle;


10.1

Add New Specifications – click on Add new and add more parameters if needed;
Included offers – Add offers that should be bought before this bundle can be purchased; Note!

The bundle

must contain at least two offers, also

the b

undle can

include an

unlimited number of offers.

Offer – click on this field and the system will give you the choice of your own offers to add in the bundle;

Delete Icon – delete offer if needed;

Billing type – select billing type between License, Usage-Based, and One time for a bundle you are creating;
Supported Billing cycles – choose between Monthly and Yearly;
Min Amount – Minimum amount that can be purchased;
Max Amount -Maximum amount that can be purchased;
Is trial – here you can choose if this bundle is as a Trial bundle (the same set up as for offer);
Is Automatically Renewable – Bundle will auto-renew if purchased;
Industries – choose between Privet Business, Government, Education, Non-profit, depending on what industry you select, a bundle will show in that seller's catalog;
Select Countries – Select multiple or one country, where bundle will be available in;
Save – save the newly created bundle;
NOTE! Bundle can't have a pricing plan or be an add-on. The bundle does not have its own renewal settings.

Bundle does not have quantity limits ( Min Amount, Max Amount) of any kind – all quantity control is maintained for each offer included in the bundle.

Bundle does not have a price – its vendor price is calculated as sum of vendor prices of all included offers; its SRP is calculated as sum of SRPs of all included offers.
0
0
Was this article helpful?
0 out of 0 found this helpful