All Subscriptions are located under the Subscriptions tab. There, they can be managed and edited. 
To manage subscriptions, go to the "Select Organization" page and select an Organization. This is done by clicking on the organization's name and selecting the Subscription Tab.

Subscriptions can also be managed via the "Select Organization" function; simply click the organization's name. This will display the organization's profile. Here, you can see and manage subscriptions and other relevant information.
To change the status for and quantity of licenses/seats, press on the name of the Subscription:
Edit Subscription: This function allows the user to edit basic information related to this subscription
Edit Price: This function is used to adjust prices


Note! The license quantity cannot be lower than Assigned Licenses.
View/download Vendor's Terms & Conditions by clicking on the link. Then, mark the tick-box for the respective licenses and press the "I agree" button to continue.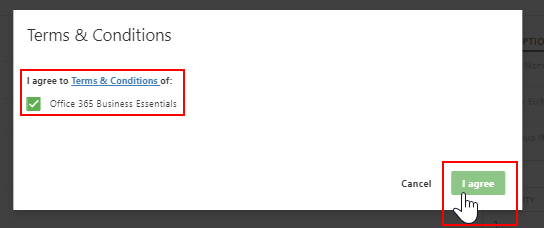 When a request for changes is sent, you will see a notification bar, where you can locate and see the changes you have made to the subscription:

Click on "View order" to see details of the submitted order. The system will direct you directly into the detailed view of the order. 

Order can also be accessed via Orders tab:

Users can access subscriptions through the "Select Organization" page by clicking on the number of subscriptions for the chosen Customer: