What if my Domain is not created?
To be able to successfully create a new Microsoft customer domain it is required to correctly fill out the customer registration form. If the form is filled incorrectly, at the time of the domain creation, this can lead to an issue where Microsoft API will not validate the domain tenant. Please read here - How to create manually a new Customer Organization?
It is advised to fill out all the necessary information about the Customer Organization.
Note! The Postal Code and City are mandatory fields to be filled for Address Validation. Also, make sure that the primary address and primary contact information correctly filled out.
This is highly important for the USA, Canada, and

Australia
countries as the address must exactly match Microsoft accepted format.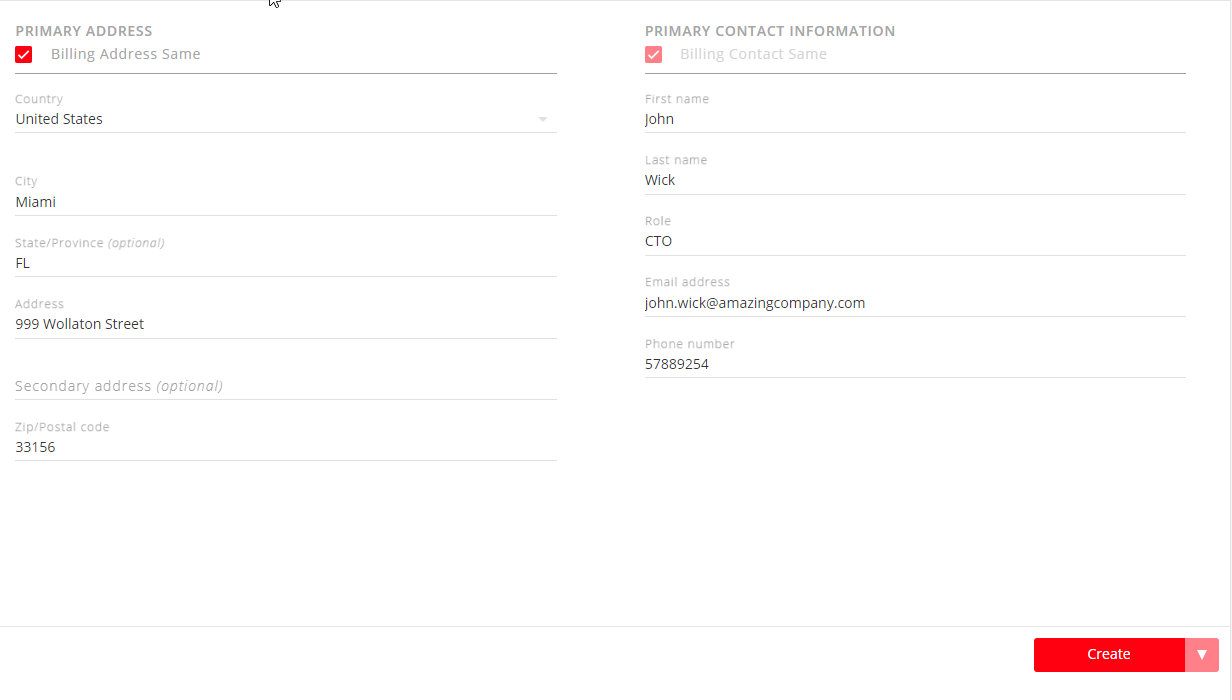 The supported list of states for the USA are listed below in the given format:
"AK", "AL", "AR", "AZ", "CA", "CO", "CT", "DC", "DE", "FL", "GA", "HI", "IA", "ID", "IL", "IN", "KS", "KY", "LA", "MA", "MD", "ME", "MI", "MN", "MO", "MS", "MT", "NC", "ND", "NE", "NH", "NJ", "NM", "NV", "NY", "OH", "OK", "OR", "PA", "RI", "SC", "SD", "TN", "TX", "UT", "VA", "VT", "WA", "WI", "WV", "WY".
The supported list of states for CA are listed below in the given format:
"AB", "BC", "MB", "NB", "NL", "NS", "NT", "NU", "ON", "PE", "QC", "SK","YT".
The supported list of states for Australia are listed below in the given format:
"Australian Capital Territory", "Jervis Bay Territory", "New South Wales", "Northern Territory", "Queensland", "South Australia", "Tasmania", "Victoria", "Western Australia".
As supported phone number format are these:
| | |
| --- | --- |
| (267)/1101945 | (004).091.4807 |
| (607)142-0859 | 1.(458)-866-4473 |
| (238)0295386 | (927) 325/3908 |
| 1(370)4817989 | (854) 9660329 |
| 206.1847393 | |
| 5083665804 | |
After this has been done correctly, a new tenant domain can be created and subscriptions purchased.

When creating a new tenant domain on the offer config form, Microsoft performs extra validations (for the US and CA) to ensure that State, ZIP, and City are in line.
Note! When a customer is created or their profile is updated, State, City, and Zipcode need to all be in line with each other to pass validation later when a tenant is created with Microsoft during checkout. Otherwise, tenant creation will be rejected by Microsoft, because address validation is more strict than on the customer profile.
0
0
Was this article helpful?
0 out of 0 found this helpful