1.
Introduction
Explore AppXite's Platform APIs by using AppXite Developer Portal. Please use https://dp.appxite.com/ for accessing production APIs and https://developer.appxite.com/ for the sandbox APIs.
Please note that this article describes Platform APIs accessible via Developer Portal. For learning more about reporting related API's please visit Reporting API.
Our APIs are styled as REST and return JSON-encoded responses with standard HTTP response codes. AppXite develops APIs to support various integrations, allow users and applications to access platform data and interact with the platform programmatically. The following HTTP methods are used to access the API resources: GET, POST, PUT, and DELETE.
To access and use our API's through Developer Portal you need to:

2.
API Versioning & Release
Platform release notes will list all of the changes that are introduced by an API version. API version control will use the following format:
Major version releases x.0 (Example 2.0)
Minor version releases: 0.x (Example: 0.3)
3.
Access to Developer Portal
Navigate to https://dp.appxite.com/. Developer Portal is accessible to any user by signing up and creating an account.
Email: Enter your email address in the Email field. The email address you enter will be used as your login ID.
NOTE: Please use the company email you are using to access the AppXite Platform. By doing so, your account validation will be fast-tracked and platform permissions will match that of API user.
Password: Create a password in the Password field, then re-enter it in the Confirm Password field.
First Name: Enter your First Name.
Last Name: Enter your Last Name.
Captcha: Enter the captcha.
Click Sign Up to create your account.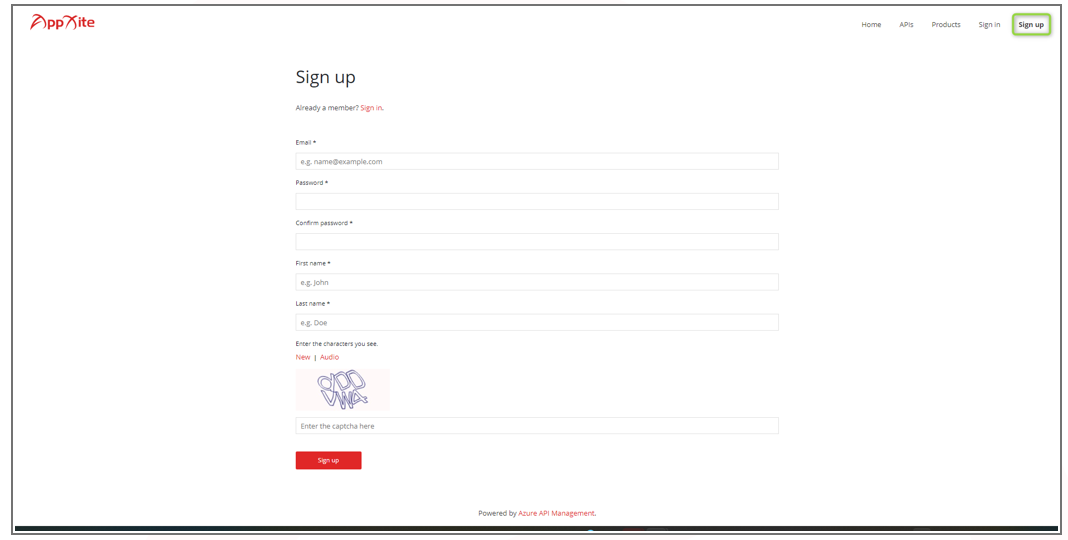 Once you sign up an email containing a confirmation link will be sent to your email. Follow the link to activate your account.
Making your first API call
Once your account is activated, Sign in and navigate to the "Products" tab.
All API's are divided into 4 different products that represent various platform functionality.
Channel Management –managing your sellers (e.g. listing, creating, approving sellers).
Core Resources – general platform functionality.
Data Warehouse – reporting API's.
Product Management – offer and product management functionality.
Click on the Product you need. To start using the API's included in the Product you need to create a subscription.

Once a subscription is created, AppXite will validate your account and activate that subscription for you.
Navigate to API's and make your first API call.
API Catalogue
Type

API Name

Description

Common Use Cases

Channel Management

POST

Approve reseller

Approve a reseller after it has been created

Can be used for bulk/single operations for approving and activating reseller portal

POST

Create a reseller

Creates a reseller based on payload data

Used for onboarding a new reseller under a specific distributor

GET

List all distis

Lists distributor entities

List all distributor entities that acting user has Distributor Admin access level to

GET

List all resellers

Lists resellers under a specific distributor

Lists all reseller entities under a specific distributor agnostically to understand which portals are still pending for approval or current active portals/resellers

GET

Retrieve a reseller

Gets more granular data on reseller

Retrieves data on a specific reseller to view its vendor configurations, contact information etc.

PUT

Update a reseller

Updates a specific field data for a specific reseller

Used for updating reseller details after portal has been provisioned for the reseller

POST

Validate an MPN Id

Microsoft Partner Network Id validation

Used for validating a specific MPN Id of a reseller to ensure that synchronization would work from the Partner Center fort he entity

Core Resources

GET

List all countries

List available counties

Lists all counties and the country code definitions that are available for use across the platform

GET

List all currencies

List available currencies

Lists all available currencies that may be used for Disti or Reseller level transactions towards the customers and for invoices

POST

Create custom properties

Adding a custom property for specific organizations

Allows to add a custom properties on offer level for organizations in order to meet specific requirements of external billing engines or ERP systems

GET

List custom properties for the organizations

Lists custom properties on organization level

Used to track/fetch properties applied to related organizations from reseller/distributor point of view

GET

List custom properties for the subscription

Lists custom properties per subscription

Lists custom properties that are applied to a specific subscription, if the purchased offer subscription has inherited custom properties

PUT

Approve a customer

Approve new customer profile

Before customer can be transacted with, their profile needs to be approved prior to that. Often used during credit checks

PUT

Block a customer

Blocks customer profile on the platform

Custom profile is blocked from any further activities on the platform, it is expected that subscriptions are suspended/terminated prior to that

GET

Check Microsoft Customer Agreement

Validation on the MCA is checked

Used for validating MCA status under customer's profile on platform and Partner Center

POST

Create a customer

Creates a new customer profile

Typically used for new potential customers that have no prior affiliation with our existing vendors

POST

Customer Microsoft agreement (MCuA) acceptance

Approved customer agreement on Partner Center side

Used for approving MCuA on customer profile level in order to ensure requirements are met before orders are placed for Microsoft offers

DEL

Delete a customer

Deletes a customer from the platform

This is used to clean up customer profiles from the platform for those that are no longer conducting business or partnership with reseller/distributor has been terminated

GET

List all customers

Lists all customers per platform portal

Lists all available customer profiles under a specific platform portal

GET

Retrieve a customer

Retrieves data on a specific customer

Used for validating/cross-checking customer profile data accuracy

GET

Retrieve a tenant fort he customer

Get currently configured tenants under a specific customer

Lists all configured tenants that the customer profile is connected to

PUT

Unblock a customer

Moves customer status from Blocked -> Active

Used for scenarios where customer has resumed business relations with a Reseller

PUT

Update a customer

Update specific fields of the customer profile

Used for updating specific fields, adjusting naming convention on customer profile level for data mapping or simplification of the customer name

GET

List available languages for tenant domain

Lists available language codes which the customer tenant can be applied with

This is used for order flow in order to provide correct language code

PUT

Approve an order

Approves an order that has not been submitted yet

This mimics the quote approval process – if a customer approved the quote, this is then prepared for submission

POST

Create an order

Creates an order for a specific customer

Order is created, but not submitted, this order can be populated with order items (offer, seat count, commitment period, billing frequency)

DEL

Delete an order item

Remove order item from an order

Allows to remove an order item from an order that has not been submitted for provisioning

POST

Execute an order

Submits order for provisioning

An order is pushed for provisioning based on the order item data it contains

GET

Get Terms and Conditions of offers in order

Gets T&C for a specific order

This allows to get Terms and Conditions for all order items in the order, if the order contains offers from different vendors, each unique T&C description will be returned per vendor

GET

List all orders

Lists all orders per customer or platform

Lists all orders based on the conditions provided – horizontal view from a single platform or per customer

PUT

Reject an order

Reject an order

Orders can be rejected by customers, in an event if the seat count is not satisfactory or offers are missing

GET

Retrieve an order

Gets a single order data

Listing data in single order will return all its order items, seat count and other data related specifically to the offer configuration

POST

Calculate price for a pricing plan

Calculates price based on conditions provided

This is used to understand price estimates for specific offers based on price per seat or multi tiered price model it may have a been applied with

POST

Configure an order payload

Configuration of order items

Allows to create a list of desired offers, their seat count etc. that will be applied for a specific order

GET

List all catalogs

Lists available catalog configurations

This is used mainly by distributor user, there can be several catalogs configured

GET

List all categories for the catalog

Lists available categories per catalog configuration

Used for gathering information on which categories are set up under a specific catalogue configuration

GET

List all offers fort he product

Lists available offers that the product contains

This is used to understand specific offer availability on the platform, based on country/region

GET

List all products for the category

Lists products configured under a category

Each category has its own name that often reflects what products it contains, the list of products is returned per category

GET

Retrieve a pricing plan for the offer

Gets pricing plan(s) per offer

This is used to fetch pricing plans per offer and often used as part of order payload configuration

GET

Retrieve an offer for the product

Gets a specific offer from a product

Allows to pull or check offer availability on a product level

GET

Retrieve localized offer details

Gets localization of offer

Results return regional/country availability for a specific offer

POST

Invite a user

Invite a new user to the platform

User invite flow requires to provide permissions, identity provider and email address

Data Warehouse

GET

List all organizations

Lists all organizations

Lists all organization data available though current access roles assigned

Product Management

POST

Create a property for the offer

Created a custom property on the offer level

Used for creating new offer property based on the platform that will be used to sell a specific offer

GET

List all offers

Lists all available offers agnostically

Lists all available offers across the board

GET

List all products

Lists all available products agnostically

List all available offers across the board

GET

List all properties for the offer

Gets custom properties of an offer configured

Lists unique offer properties based on the platform scope provided

GET

List all vendors

List available vendors

Lists available vendor whose products can be added to platform portal, for instance

PUT

Update a property for the offer

Updates a specific property

Updates or changes a specific offer property under the offer
1
1
Was this article helpful?
1 out of 1 found this helpful