To create a new offer(s) in the Products section, click on New Offer. The section will be opened in a new window.  

Note! marked with star symbol * are mandatory fields to be filled in.
There are three Offer Statuses: New, Published and Unpublished;
New – Offer status is new, not saved yet;
Published – Once an offer is created and saved, the Product Manager will get a notification to finalize the provisioning. Only after Product Manager has been informed that the provisioning for this specific offer is created it will be possible to Publish the offer;
Unpublished – Once an offer is Published, the Product Manager can Unpublish offer if any updates are needed.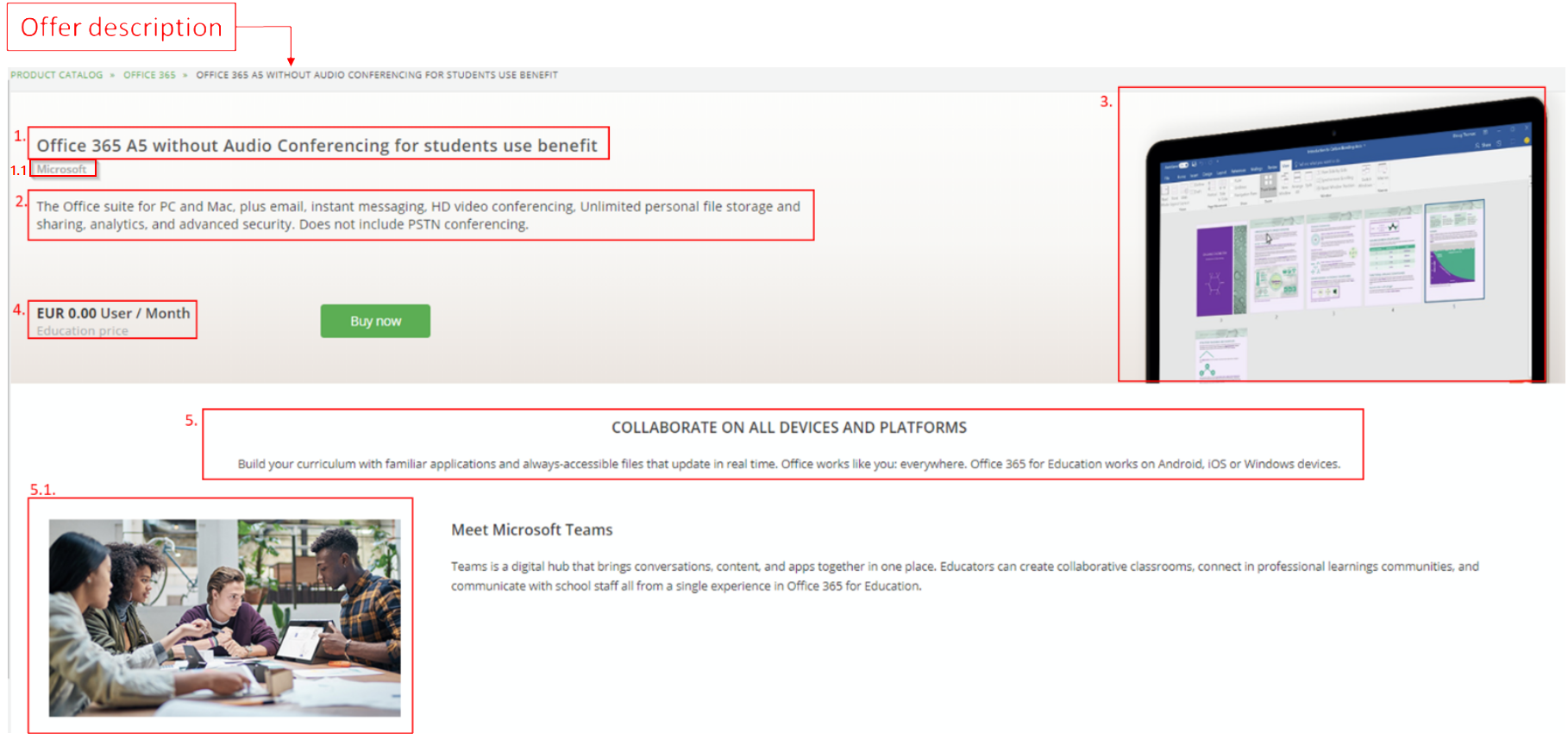 Above how the offer is seen in the platform:
1. Offer name;
1.1. Vendor name;
2. Offer description;
3. Offer logo;
4. Offer price (to be set up next);
5. Marketing materials;
5.1. Marketing materials picture;
----------------------------------------------------------------------------------------------------------------
You will see that you are under a created or existing Product (A.), e.g. A1, and now creating a new Offer.
Once you make an offer, you as Product Manager will go through Offer Statuses (B): New, Published and Unpublished;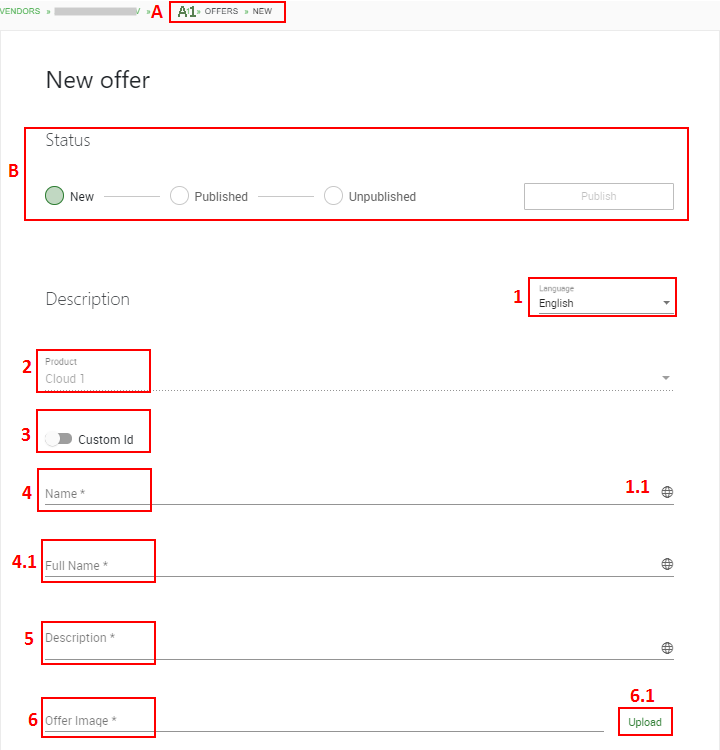 1. Switch language by selecting arrow, here you can localize Offer by adding offer in different languages, select a different language, and fill in the form again.
    1.1  Earth signs – fields can be localized;
2. Product Name – Product under which offer will be created;
3. Custom ID – select Custom ID if you choose to have your own ID, if not selected, the system will automatically generate ID for you;
4. Name – Offer Name;
4.1 Full Name –   Offer Full Name;
5. Description – Offer description, here describe in 2-3 sentences offer. The recommended length is up to 250 characters (with spaces);
6. Offer image – Add a publicly available link or
     6.1 Upload image for the offer;
Note: Image parameters - 1:1 ratio, preferably not bigger than 400x400px.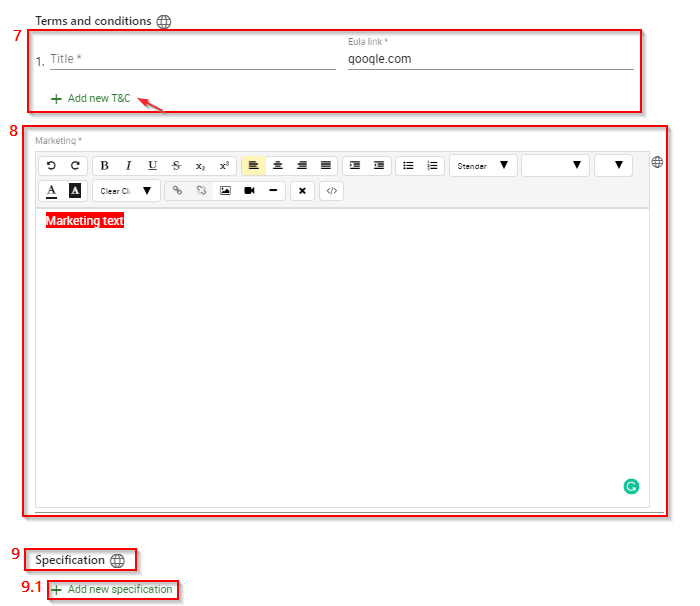 7. Terms & Conditions – add here your Terms and Conditions with http:. End-customer will need to agree to these terms and conditions before completing the purchase. Terms & Conditions (also known as terms of use and terms of service, commonly abbreviated as TOS or ToS, ToU or T&C) are the legal agreements between you as a vendor and the end-customer. The End-customer must agree to abide by the terms & conditions in order to use the offer. You can add and remove several T&C links per offer. 
Note! It is mandatory to add T&C for all your offer(s).
8.  Marketing – here you can add a more extensive description of the offer, add a table, more images;
9.  Specification – add offer specifications/parameters if there are any e.g. Key Features, capacity, storage data that offer could have but are not to show in Marketing material or offer description; this field can also be localized;
     9.1  Add new specifications – press on the plus icon and add more if needed;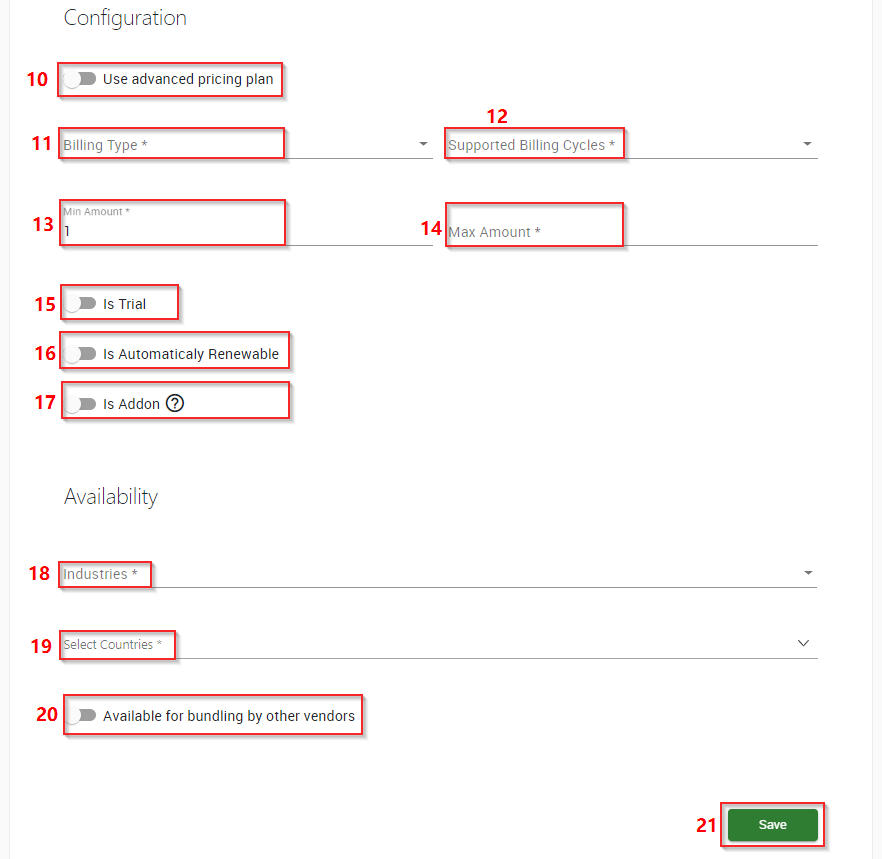 10.  Use advanced pricing plan – this function enables to use Configure Price Quote (CPQ) for an offer. 
11.  Billing Type – here select what billing type offer have:
      11.1. License based – License based subscription is payment type that allows customer to purchase                    Vendors services for a specific period of time for a specific set price, typically this price module commits on a monthly or annual basis;
      11.2. Usage-Based (Consumption-Based Pricing) – Usage-based pricing module is based on how  much service is used by the customer in the set time of period;
      11.3 One time based – One-time base pricing where customer purchases subscription and pays one time, e.g. workshop;
12. Supported Billing Cycles – there you will have to select depending on what you have selected in point         
      11. (License based, Usage-Based or One time):
      12.1 If you selected License based – choose in this section either – Monthly or Yearly. Here  your offer will be purchased either as License per month or License per year;
      12.2 If selected Usage-Based choose Monthly as billing cycle;
      12.3 If you selected One time – choose One time – the customer will pay one time when purchasing offer;
13.  Min Amount – here select from what amount your offer can be purchased e.g. 1 - … ; 10 - … ; etc.
14.  Max Amount – select maximum amount customer can purchase your offers e.g. … - 11; … - 51 etc.
15.  Is Trial – chose this option if the offer is Trial version, if so, complete the form. When the offer information is completed, this offer will be as a separate SKU in the seller's Catalog.
Note: If you wish to have an offer after Trial expires, you will need to create new SKU with the same information as for Trail;
16. Is Automatically Renewable – Offer will auto-renew depending on what billing cycle is selected (monthly, yearly); 
Note: Trials are not automatic renewable as when the trial has been ended, the customer will need to purchase a new SKU. 
17. Is Add-on – this means that this SKU will be an add-on for another offer(s) you might have, read more - What is an add-on?;
Note: Both fields-Is Trial and Automatically Renewable can be left empty if SKU is not either a trial or auto-renewable.
18.  Industry type – here choose in what type of industry your offer is available, the option to select multiple industries is available. Once you have selected, the seller in with a specific industry will see your offer. You can choose multiple at the same time:
Private business;

Government;

Education;

Non-profit;
19.  Select Countries – here select countries where your offer will be available in; Search by name or scroll  to select needed countries; You can choose multiple at the same time;
20.  Available for bundling by other vendors – not yet available, to bundle with other vendors.
21.  Save – click the Save button when all is filled;
Once you have pressed Save, the Product Manager will need to Publish an offer in order to be able to see it in Seller's catalog.