Synchronize Organization with existing MS Tenant
If MS tenant for the customer already exists, it will synchronize from MS Partner Center, after
the Relationship Consent Link (available in MS Partner Center) is sent and accepted.
Note! Synchronization takes up to 24 hours for Customer Profiles to show up on the platform.
For manual synchronization, read the following article Perform a manual synchronization
Make sure, that the Customer organization information is correctly and fully filled in the Microsoft Partner Center. Otherwise, it will not be possible to place orders for this customer via the platform. The mandatory information for Microsoft is the customer's Bill-to info: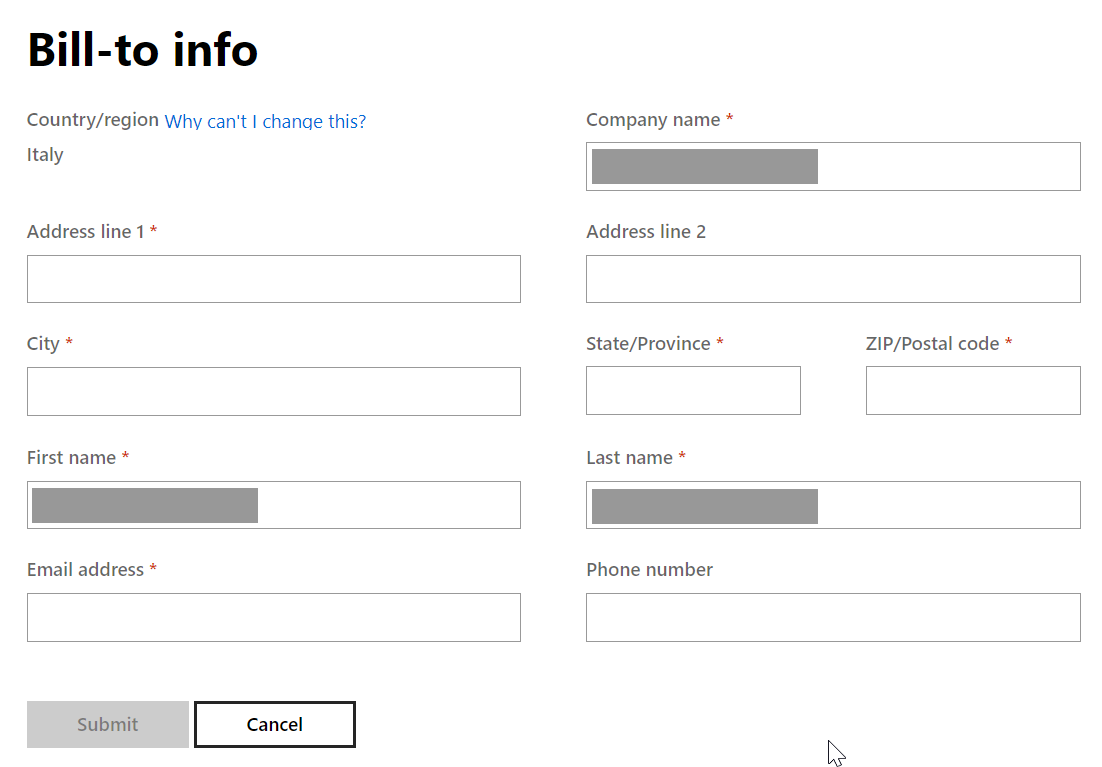 If it is an existing CSP Customer, whom you invite via the Consent link, they will need to have this information filled in on their side. This info, via synchronization, propagates further into the AppXite platform, and further purchase orders can be submitted without issues. If this (Bill-to) information is missing on the customer's side, then it will have to be updated manually.
Note! For sellers, you will need to contact your indirect provider to update this in your Partner Center
--------------------------------------------------------------------------------------------
1. You, as a Seller (Account manager / Seller Admin), should either send this to your customer(s) or, if you are the Global Admin of MS Office365 Tenant for your customer(s), you can accept the link on behalf for that customer.
2. Once this is done, the Customer(s) will synchronize with the Seller platform (overnight).
3. After the customer synchronizes, you should re-purchase all your customers' existing subscriptions through the platform, and afterward, cancel the ones through their previous provider in MS Partner Center.
Note! In case a new customer has a tenant with Microsoft, creating a new organization in the platform will create duplicate customer organizations.
E.g. Customers that have tenant ABC and have accepted consent link will synchronize with the platform, and if you manually create a new customer organization for ABC that will lead to double ABC organizations in the platform, causing issues purchasing new subscriptions.
0
0
Was this article helpful?
0 out of 0 found this helpful